For today's feast of Our Lady of Sorrows we did a prayer meditation and a craft. Normally I'd be gung-ho to make a treat, but we just did that for The Nativity of Mary, and I did not want more sweets around this week! PLUS it's a SORROWFUL day, not a YUMMY kind of day. So we rejoice in our suffering but rather than rejoicing through a physical feast...we did a spiritual feast. The feast of eating of the fruit of suffering as Our Lady did throughout her life which was entwined with her Son's.
I searched for Seven Sorrows of Mary and found a lovely one with children's meditations.
I slightly adapted some of the wording to suit our family's needs. The kids are young...so not all of the wording is at their level. However it was easily adapted.
For our craft we made the Immaculate Heart and poked it seven times with seven toothpicks as each sorrow was read. The kids did this and hearing myself say "now poke Mary's heart" was quite a vivid moment for me as I heard the tearing of the paper and thought of the agony of a mother crying out as her son's flesh is torn. It was a wonderful exercise for us.
Here is what you need:
The paper is scrapbooking paper with roses printed on it, but you could make tissue paper roses or use rose petals. OR stickers. I punched out holes in the top to string our yarn through. I use a 3 hole punch but you could also simply cut slits in the corners.
Also a bit of yarn if you'd like to hang it on your statue or from a candle. I used some yarn from an wooden cross I had and thought it was very symbolic. The piece of an old cross tied to the sorrowful heart of Our Lady...her heart is heavy with the pain of her Son.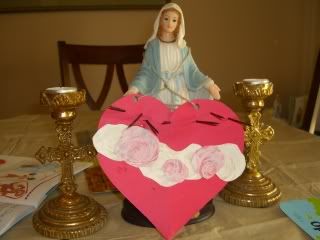 May your Feast be blessed. Our Lady of Sorrows, Pray for us.