Here's my gumpaste/fondant cake topper for Easter! Of course...there is no cake yet...I am hopeful there will be time to get one made!
I spent my morning baking cookies and making Krispy Treats for my kids' baskets. My daughter's food allergies only allow so many purchased items and it ends up being a nice touch to have homemade goodies!
I also really wanted to make an allergen free Easter Bread this year. Trying to shape it into a ring is difficult so I just poured the dough into a well greased bundt pan.
My daughter can't have eggs so instead of using painted eggs...I painted the bread! :)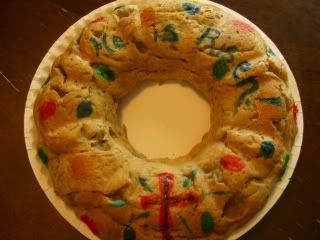 I diluted icing colors in vanilla like I do with fondant painting and it worked pretty well!
This is a great alternative for people who still want something festive without eggs!
Blessings for a Holy Easter!