Well I know it was yesterday but I wanted to share some adorable pics of the kids from these past few days. E has been in full blown celebration mode and decked out in red white and blue. A was just excited to watch things blow up! :)
She was acting like a drill team girl for these pics! So funny!
Yesterday was so much fun for her and she was so excited for all the baking, crafting, and books about our Independence.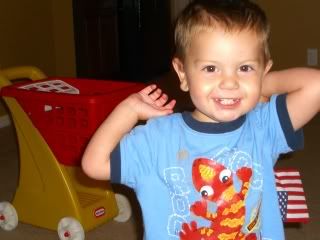 I do think A's biggest joy was riding out to Target with Daddy and watching the fireworks. We had a GREAT view of some from his room in the front of the house. So we pulled up some carpet and watched them from the comfort of air conditioning and avoided the bugs completely! I'm so glad we decided not to brave the crowds...this was oh so much better!
It was sort of sad to be away from all our loved ones, but it was also awe-inspiring to be together as a family unit and start new traditions. This is the first year we've been all together on the 4th since E could walk. Such a blessed celebration.
So today I'm praising God for my children. For my husband. For our life together. And always remembering that our time on this earth is miniscule compared to our time together for all eternity. May our great country always look to its Creator and King as without Him we are nothing.
In Jesus,
Evie