We normally would do pancakes but I've been saving up all of my gluten free flour blend for a king cake!
Soooo just because I wanted to make something with all the heavy stuff (eggs, milk, fat...) I made this one using the one box of cake mix that remained in our previously well stocked pantry. It was calling to me...especially since I won't be baking during Lent excepting on special feasts (we'll probably do cake on for rose's birthday on a Sunday or Feast day).
Here's a quick recipe...this gives a denser/bar-like texture. Which is what I was going for as it seems more rich and FAT Tuesday-ish to me! :)
1 box of Vanilla or white Cake mix
1/3 cup of vegetable oil
8 tbsp of water
1 egg
Wilton Spring colored sugar sprinkles (or any purple/green/yellow sugars)
Combine and mix well. Spread into a greased pan of your choosing (around 8 to 9 inch pans will work best). Bake until a toothpick comes out clean. Usually between 15-30 minutes.
This recipe can also be used to turn a cake mix into cookies...just reduce the water by 2 tbsp...it will be sticky but it bakes into a very soft cookie.
Once it cools flip it onto a plate and brush with a bit of a powdered sugar/milk mixture or with corn syrup. Sprinkle your mardi gras colored sugars onto the cake in sections.
We also decided to make a Mardi Gras mask! Little Rose wanted to "make" something. I've been in a bit of an allergy stupor thanks to the Benadryl I took a double dose of last night. So when she asked this morning...I couldn't remember what my plans for today were...and luckily, I spotted the cake and thought, "Mardi Gras". "Mardi gras means beads, masks..." and I managed to come up with this pretty quick!
We just used what we had around the house:
Green cardstock
Purple crepe paper
Yellow construction paper
Yarn
Gluestick
Scissors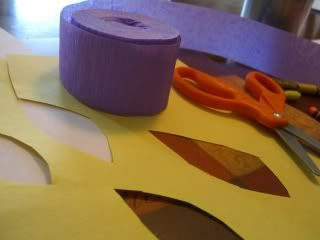 I drew the mask shape on the cardstock and little rose cut it out. Then I helped cut out the eyes and attached the yarn by making a small slit in either end. If you have a hole puncher I'm sure that would be easier! I tied it in a knot on each end making sure it was tight enough to fit over her ears. She cut out construction paper feathers and glued them onto her mask. I cut strips of crepe paper for her to make streamers out of, and she glued them onto the sides.
Hope your Shrove/Fat Tuesday is blessed! Lent is near...Fasting/Praying/Almsgiving here we come!