We did letters J, K, L, and M recently and here are my pictures from letter L week...L is for leaves and ladybugs.
We went for a nature walk (ha ha...suburban America nature walk...) and picked up leaves we found. We took them home and painted them. She wanted them to be blue. I love that she wanted them to be blue!
My little man wanted to paint leaves too and he did surprisingly well sitting still and not trying to paint himself!
We read a wonderful book about leaves changing colors and falling to the ground. It was a beautifully illustrated book and very well written.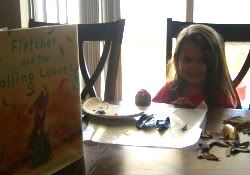 She enjoyed singing London Bridge is Falling Down and playing being "locked up" as the song states. We also tried locking up little man but he did not enjoy it one bit!! Very cute! :)
All in all it was a fun week! I know we did some other things too, but I can't remember! I need to post the week of the lesson or I forget! Tomorrow her Advent lessons begin!
More about that soon...
Advent blessings!